Finance it Forward is inspired by
"Pay it Forward"
We believe in creating and putting the work first; asking our clients to do the same for their businesses. To invest, modernize and upgrade their business by using their resources and or financing if necessary to fulfil their business goals.
We are your technology partner in commercial finance.
The main piece of the financing work we do is driven by technology. The kind of technology that would be updated and using the cutting edge tools to make the life of our clients and vendors easier. This includes but is not limited to a smart online application, instant online approvals, reports and financial analysis portal and interfaces, connecting to hundreds of lenders and institutions via API and postal access, machine learning and many more.
We give back 10% of the documentation fees back to charities.
Inspired by the same trivia "Pay it Forward"
We have decided to share part of our success and our client's for a good cause. We like to work with the most recent issues and challenges in addition to fundamental world problems where we can donate funds regardless of the amount but constant to carry a positive impact.
We are a financial technology platform for commercial equipment leasing and business loan acquisition.
On the financing side, we are a super-broker with access to hundreds of lenders catering to different types of loans, equipment and regions.
Finance it Forward aspiration to assist the customers to optimize the search process of leasing, loan. Thereby, it's indirectly helping our vendor increase sales in the competitive marketplace. As well as it helps to strengthen emerging company positions in the business market.
We are solving the problem of the future, replacing the human workforce with technology.
We will provide the proper funding for all these types of machinery, equipment, technology, Solar Panels, and driverless commercial vehicles, etc.
The application will enable a customer or a vendor to apply and obtain proper approval instantly. The platform would work 24/7, fund transactions rapidly regardless of time zones, location, equipment type, and business industry.
At Finance IT Forward we start building a relationship with vendors and understanding their needs for customer financing. We are using technology, fast turnaround time, tools, profit sharing to ensure a successful relationship. As a result, to provide much-needed financing to customers who apply.
Our platform makes the right match by using the algorithms combined with industry and technology knowledge.
In addition to the standard validation algorithm, as time goes on and more transactions have been recorded in our database, the Machine learning implementation allows the program to become more accurate.
As a result, the financial institutions will receive the appropriate transaction and data, enabling them to present the best approval scenario to the clients.
Pay it Forward
We are restructuring outdated ideas about financial platforms as places where you pay blindly for an unknown result.
Finance it Forward implement the procedure of application, processing and underwriting before payment procedure. This work priority makes the procedure of the financial technology platform working clear.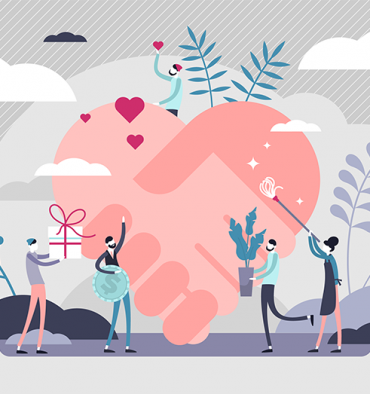 Сharity
We follow the idea of business philanthropy. We offer a competitive loan for a business in a competitive environment. Continuous optimization allows us to match our client with the most fitting line of offers. Extending our exercise in investment in human potential, we transfer 10% of all documentation fees to non-profit organizations.